Android-användare kan bokstavligen utföra alla aktiviteter på en smartphone bara genom att tala några ord till Google-assistenten. Vanligtvis kännetecknas Google-assistenten av en mänsklig röst. Som standard får vi höra en kvinnlig röst. Men en användare kan ändra assistentens röst på sina Android-enheter. Det finns totalt två typer av röster som man kan tilldela till Google Assistant. Tidigare versioner av assistenten hade tidigare upp till 8 typer av röster.
I den här guiden kommer vi att förklara några coola metoder för att ändra Voice of Google Assistant på alla Android-enheter. Detta betyder att du inte bara kan ändra den virtuella assistentens röst smartphones men också på dina integrerade smarta hemenheter. Låt oss dyka in i guiden.
Hur man ändrar rösten till Google Assistant
Med Android 10 finns det två röster i Google Assistant, en manlig och en kvinnlig röst. Så en användare kan välja någon av dessa två röster på sin smarta enhet. Normalt finns det ett manuellt sätt att komma åt inställningarna för Google Assistant. Där kan en användare välja mellan tillgängliga röster. Då kan han byta assistentens aktuella röst till den nya.
Använda röstkommando
Låt oss emellertid prova en enklare metod. Det innebär ett enkelt röstkommando genom Google Assistant sig. Så här är det gjort.
Starta Google Assistant (använd den dedikerade appen)
Tala ut kommandot "Byt röst"
Den virtuella assistenten kommer att byta röst till en ny röst
Då kommer det att fråga dig om du vill använda den nya rösten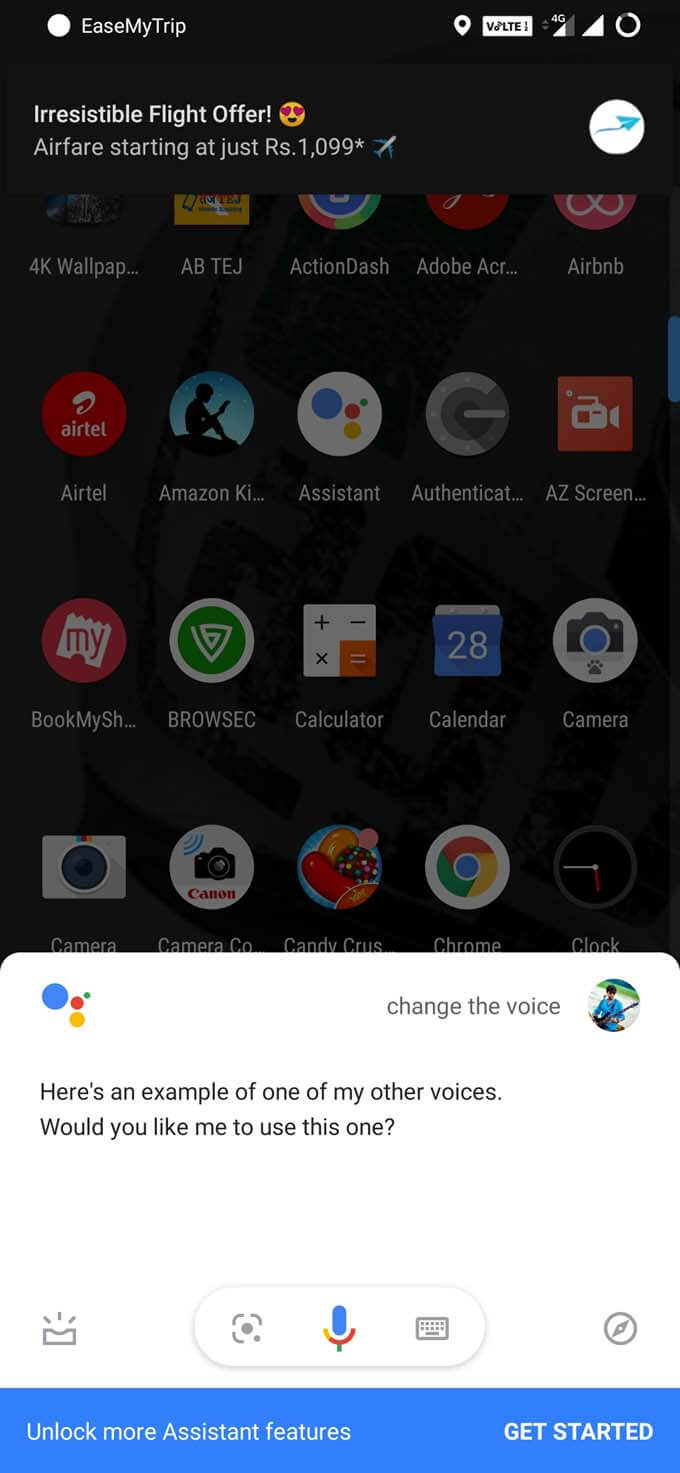 Om du inte bekräftar den nya rösten, Google Assistant hjälper dig att komma åt assistenten i inställningarna och ändra den. Den metoden vi har diskuterat i nästa avsnitt.
Relaterad: Hur man lägger till profilbild för låsskärm i Android 10
Öppna assistentinställningar
Gå till Google-appen> tryck på den för att starta den
Klicka på Mer i nedre högra hörnet> tryck på inställningar
Under inställningar,> tryck på Google Assistant

Navigera här till Assistent flik
Klicka nu på Assistent Voice
Du kommer att se "Välj den röst din assistent kommer att använda för att svara på dig"

Nu kan du manuellt välja bland tillgängliga alternativ för att välja vilken röst som helst.
En förhandsgranskning av voiceover för varje rösttyp spelas upp.
Varje röst du väljer kommer att markeras med ett fästmärke.
Note: Google Assistant -funktionen är endast tillgänglig på Android smartphones som kör Android 6.0 Marshmallow eller högre version av OS.
När vi talar om handsfree-funktioner på Android är det första vi tänker på Google Assistant. Android har förbättrat sitt Artificial intelligence-spel till stor del under de senaste åren om vi tittar på dess populära virtuella assistent. Det var ursprungligen en del av Google Allo meddelandeapp. Dessutom var det en exklusiv funktion på den första generationen Pixel-enheter. Men senare tog det sig in i andra smartphones, Android wearables, etc.
Nu med dessa detaljerade instruktioner kan du ändra Voice of Google Assistant på alla Android-smarttelefoner såväl som på alla Android-smartenheter.